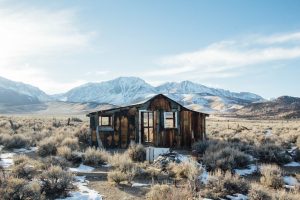 The Highlands, a bleak yet beautiful landscape, which occupies the northern half of Scotland, has been a popular destination for walkers and all lovers of the great outdoors for many years. The walks that are on offer range from easy ambles across flat land, to some of the most challenging hill-climbs that the UK has to offer. Like any destination, if you put a little time into planning your stay there, to make sure that you see and do the things that you really want to, you're in with a far better chance of having an enjoyable time, and making some memories there that will indeed last a lifetime. In this article, we'll take you through the things that you really need to know, to plan a high-quality walking holiday in the Scottish Highlands.
Check the Weather
The Scottish Highlands have a well-deserved reputation for unpredictable weather, but the conditions are not as unrelentingly miserable as you may have been led to believe. However, we'd still highly recommend that you check a weather forecast a few days or more before you set off, and keep an eye on it while you are there, as conditions can be highly unpredictable. If you are planning a trip in advance, then check out a climate summary, so you have a rough idea of the conditions which you will be facing when you arrive.
Where to Base Yourself
You will almost certainly need your own transport when you're in the Highlands, as away from the major towns and cities, public transport networks can be sparse or even totally non-existent. If you're bringing a caravan, keep in mind that you will need to find a place to keep it overnight, and merely parking it in a public car park is generally not permitted, (although the odds of you being caught in a rural location out of season are fairly slim).
In terms of getting to the area, the odds are that if you're arriving by air, you will come in via Inverness Airport:inverness airport which enjoys regular connections to other UK cities and the KLM
hub in Amsterdam.
Other Considerations
Before you set off on your trip, it's worth speaking to a doctor to check out your health status if you are not a regular walker, and haven't done this sort of thing before. Click here and take a look at the Livi app, and you can check your current health status from the undoubted comfort of your own home. It's also worth making sure that you choose a walking route which is right for your level. Don't pick anything too challenging, especially during your first few days in the area if you've had a long flight to get there.